Being one of the Largest Independent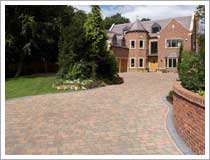 Builders Merchants in the area, we
annually supply thousands of metres of
Block Paving to the trade and retail customers.We supply Plasmor block paving, after 25 years of dealing with numerous manufactures, we have found that Plasmor blocks offer a superior quality Block and their aftersales
service is second to none.
DECEMBER 2023 SPECIAL OFFERS
50MM PLASPAVE (9.76M2/PACK ) COMES IN RED, CHARCOAL, BRINDLE, BUFF RUSTIC GOLD - 16.40m2 incl vat
SORRENTO 3 SIZE BLOCK AS PICTURED ABOVE (7.35/M2/PACK)AVAILABLE IN 6 COLOURS £27.20m2 incl vat
IF YOU REQUIRE MORE THAN 50M2, PLASMORS ARE OFFERING A SPECIAL PRICE UNTIL THE END OF OCTOBER ON SORRENTO AND MONOPOLI ENQUIRIES PLEASE CALL AND ASK FOR SHEENA
ACO DRANAGE CHANNELS 900MM LONG
PLASTIC BASE/METAL/BLACK GRIDS £14.25 inc vat
IF YOU REQUIRE A SHALLOW FALL THEN THE RESIN ACO WOULD BE REQUIRED FOR THE JOB
BLOCK PAVIOUR MANHOLE COVER AND FRAME 600 X 450 THIS ALLOWS YOU TO BLOCK INSIDE THE COVER SO YOU DONT SEE A MANHOLE LID prices start from£43.00 inc vat
WE NOW HAVE A DISPLAY AREA WITH DIFFERENT TYPES OF BLOCK PAVIOURS ON DISPLAY IN THE VARIETY OF COLOURS AVAILABLE - PLEASE FEEL FREE TO CALL DOWN ANYTIME
Free delivery on all orders over £200.00 within a 20 mile radius.
Call us on 0113 2872242 for a competitive price, with next day delivery six days a week ensuring you get the best possible service.