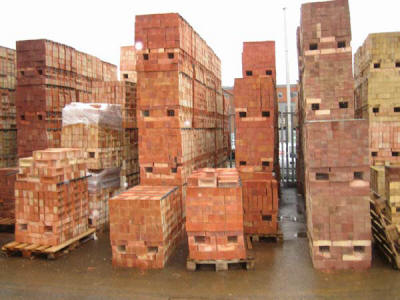 Due to being the largest builders merchants in the area we have a huge variety and stock of Hanson and Ibstock bricks including:
- LBC - Tudors, Cotswold, Heather, Golden Buff, Dapple Lights,Georgia, Brindle.
- Rustics, Red Rustics, Staffordshire Blues, Weathered Reds, Pinholes, Engineering, Wire Cutts Bricks.
- Ryedale Multi's, Swaledale Multi's, Farmhouse Brown, Tumbled, Cream Mix, Victorian and city Multi's.
We offer samples with a free brick matching service, ensuring your build is completed to the highest possible specification

DECEMBER 2023- STOCK

SPECIAL OFFER - ABBEY RED MULTI £314.59/PACK 452 PER PACK ONLY WHILST STOCKS LAST ONE TIME OFFER





TRADESMAN HEATHERS
TRADESMAN COTSWOLD
TRADESMAN TUDORS
TRADESMAN RUSTICS
TRADESMAN GOLDEN BUFF
TRADEMAN DAPPLE LIGHTS
TRADESMAN MILTON BUFF

SMOOTH RED 65MM
SMOOTH RED 73MM

BAGGERIDGE BLUES 65MM
BLUES SOLIDS

RED RUSTICS 65MM
RED WIRECUTS 65MM
FLAT RUSTICS 65MM

CARLTON CIVIC MULTIS 73MM
CARLTON WEATHERED REDS 73MM
CARLTON HEATHERS MIX
CARLTN CLAYBURN CIVIC


FARMHOUSE BROWN
DARK BROWN SAND FACED
GOLDEN BROWN SANDFACED
RED SANDFACED

RAEBURNS

IBSTOCK CALLERTON WEATHER RED

SOUTHDOWN MULTIS
ARDEN REDS

KIRBY RUSTICS
MOORLAND RUSTIC

PINHOLES







 
Raeburn multis - 4000 left - £290.OO per 1000 including vat sold
Free Delivery on all orders over £200.00 within a 20 mile radius.
JUST COME INTO STOCK LBC EQUIVALENTS
HEATHERS, TUDORS, DAPPLE LIGHTS, COTSWOLD
Call us on 0113 2872242 for a competitive price, with next day delivery six days a week ensuring you get the best possible service.