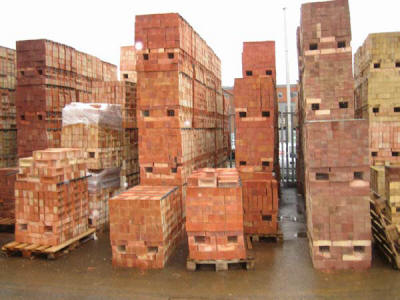 Due to being the largest builders merchants in the area we have a huge variety and stock of Hanson and Ibstock bricks including:
- LBC - Tudors, Cotswold, Heather, Golden Buff, Dapple Lights,Georgia, Brindle.
- Rustics, Red Rustics, Staffordshire Blues, Weathered Reds, Pinholes, Engineering, Wire Cutts Bricks.
- Ryedale Multi's, Swaledale Multi's, Farmhouse Brown, Tumbled, Cream Mix, Victorian and city Multi's.
We offer samples with a free brick matching service, ensuring your build is completed to the highest possible specification

JUNE 2018 - SPECIAL OFFER
Multi buff wirecutts- £285.00 inc vat sold
Red and Weathered Pin holes £425.00/1000 inc vat


Dalton Buff 65mm £276.00 per 1000 inc vat sold
Hanson Red Rustics 65mm £311.38 per 1000 inc vat sold
Raeburn multis - 4000 left - £290.OO per 1000 including vat sold
Free Delivery on all orders over £200.00 within a 20 mile radius.
JUST COME INTO STOCK LBC EQUIVALENTS
HEATHERS, TUDORS, DAPPLE LIGHTS, COTSWOLD
Call us on 0113 2872242 for a competitive price, with next day delivery six days a week ensuring you get the best possible service.